Free Removal For Unwanted Vehicles
Need to get rid of your old, wrecked, damaged, unwanted Cars, Trucks, Utes, Vans? Payless Towing can help. We can remove all makes and models of cars 7 days a week and service most suburbs.
SERVICING: LOCAL – COUNTRY – INTERSTATE
Truck Towing
Payless Towing SA provides truck towing to individual as well as trade clients in Adelaide, country SA and surrounding suburbs. We offer fast and experienced towing services delivered by experienced towing professionals.
At Payless Towing SA, our team comprises of towing specialists with expertise in truck towing. We have a modern fleet of towing vehicles, well suited for towing trucks and bigger commercial vehicles.
We understand getting your truck towed is a stressful job. Consequently, our team is equipped with all tools of trade required to deliver your truck towing service on time and efficiently.
Your Local Towing Specialists
Payless Towing SA is a South Australian owned and operated family business. We have been providing truck towing services across South Australia for over 30 years. This bandwidth of experience has enabled us to design streamlined processes and build a fleet of advanced towing vehicles and technology.
Range of Tilt Trays & Heavy Recovery Vehicles for Towing All Sizes of Trucks
Friendly, Professional & Reliable Team
Competitive prices
Family Owned business
Police Clearance
MTA Approved
Full Liability Insurance
Call us on  0412 984 565 or 1800 778 143 !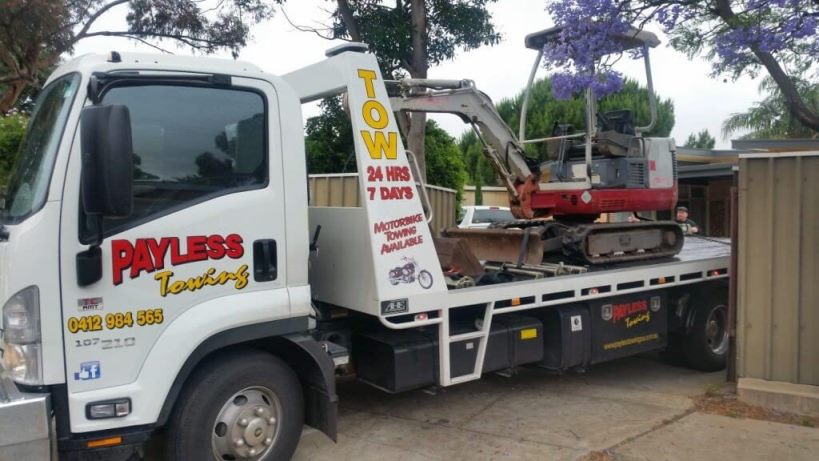 PROFESSIONAL TRUCK TOWING
At Payless Towing SA, we always have a tow truck for you as we know that breakdowns can happen anytime, anywhere. Our team have experience in towing all kind of trucks at a very competitive price.
24x7 EMERGENCY TOWING
Payless Towing SA offer 24×7 emergency towing service. If you get stuck in the middle of night with a broken truck, give us a call. Our experienced team will be there promptly and tow your truck to a repair shop safely.
COMPETITIVE PRICES
Payless Towing SA is a fully licenced and liability insured company based in Adelaide. We offer cheap and reliable truck towing services across local Adelaide and South Australia. We even cater for inter-state truck towing jobs.